The Inland Sea, twinkling in the rising sun.
The Sanuki plain, tinged with evening glow.
City lights glittering in the darkness.
In an open-air bath, you see the magnificent view of Sanuki, Takamatsu under your
eyes, and it is an indescribable fantasy that can hardly be found elsewhere. Giving yourself to passage of time, feeling easy, you can be fully satisfied with profundity of your trip. Hanajukai serves such a moment of top quality for each guest' s gratification.
Before everything, have a cup of tea with our feeling of a once -in-a-lifetime opportunity for your spirit. Unwinding time will slowly be spre ading.



Once upon a time, there was a small natural hot spring that people loved and cherished. It was an amazing hot spring that moistened your skin, healed softly your sorrow and had your warm smile regained. As time went by, however, the nameless spring was consigned to oblivion.
We desired to revive the spring that once made many people happy, and our dream came true as the self-source hot spring of Hanajukai. Its spring quality is not inferior to that of the renowned springs in all over the country and feels soft and melting. Please enjoy leisurely the hidden spring in everlasting flow of time.


The hot spring of Hanajukai even equals famous hot springs all over Japan in its spring quality. Even those who have traveled around various hot springs rate it high. You can take full pleasure of the celebrated hot spring in Takamatsu in the open-air bath installed in every room.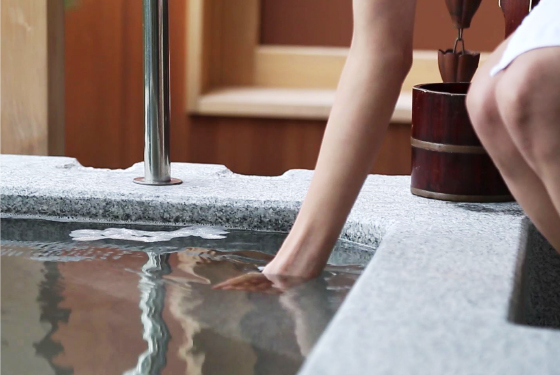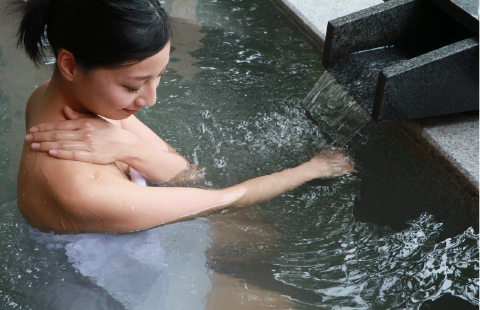 The hot spring of Hanajukai is a rare hydrogen-carbonate water which includes sodium. You feel like veiled in tenderly in softness of water. An alkaline spring, which doesn't stimulate your skin much and makes it smooth, is known as " hot spring for beautiful skin". It is especially popular among women as you don't get a chill after a bath for a long time, and it has moisturizing effect.




An open-air bathroom with a tub hollowed in a slab of a natural granite is installed in your room. Not only an elaborately built artificial hill but natural trees and flowers that show their beautiful figures in each season such as cherry blossoms and maple trees bring you a comfortable feeling of release. You can indulge yourself in a hot spring of the finest quality to the full without being disturbed by anyone and loosen your body and soul.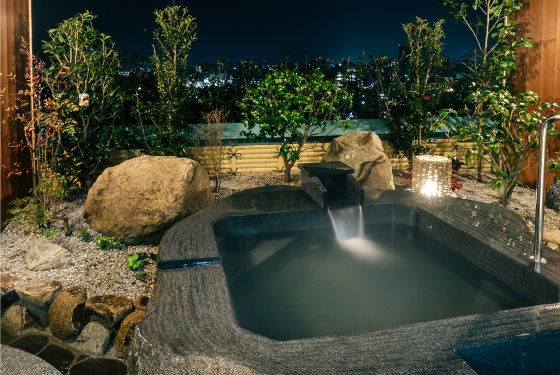 A space where you can feel the taste of each season with your body and soul

We hope you have a relaxing time in a space where you can feel
the taste of each season with your body and soul.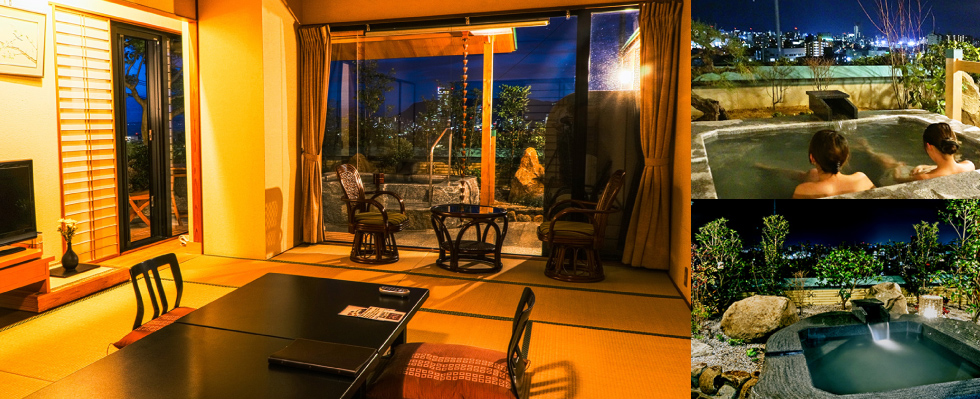 A guest room with a gorgeous open-air bathroom
We hope you have a relaxing time in a space where you can feel the taste of each season with your body and soul. It's an open-air bathroom with a tub hollowed in a slab of a natural granite. Natural hot spring is supplied and you can use it 24 hours a day.
the type of a room

A twelve-mat Japnese-style suite with a three-mat room

accommodations

2 ~ 6
room equipment
fixtures of a guest room

a toilet with a washer, a safe, a refrigerator, an air-conditio ner, a TV set, an open-air bathroom (not all the rooms), a massage chair (not all the rooms),Free Wi-Fi
amenities

a yukata (an informal cotton kimono), a tanzen (a padded large- size kimono), a bath towel, a towel, a bathrobe (not all the rooms), a tooth brush, a hair dryer, shampoo, conditioner, body shampoo, a razor, a shower cap


You can taste comfortably different flavor away from the usual bustle. Fresh fish and shellfish, high-quality meat, fresh vegetables. Carefully selected ingredients which are obtained directly from the local market every day are generously used for Sanuki cuisine. It's an original dish beyond your daily life that we make, whether a Japanese style or a Western style, just hoping that you will taste everything of it. Every seasonal dish you can savor with your eyes and feel on your tongue. Please enjoy all the relish with your precious person.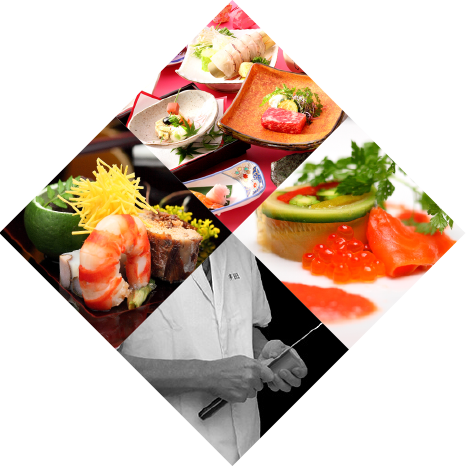 Allergy, a vegetarian, calorie, sugar control, etc. We try to suit menus to the health conditions and the liking for every guest. While we make an effort to extract the flavor of food stuffs, the dish completed will surely satisfy your taste. Sincere work that is done without grudging time and effort. The spirit of genuine cuisine peculiar to Hanajukai. If they are felt through your every bite, it would be our great pleasure.
※Please be sure to ask the modification of menu by previous day. The change of in gredients a lone can be accepted on the day.
for your high-quality time
We'd like you to have pleasant dinner time, which is the major pleasure of journey, with your family or friends.

The expression of the season with elaborate and beautiful delicacies of the season
We welcome you with the proud of craftsmen.
There are a number of special rules in the Japanese cooking menu in which our ancestors put good luck and hopes. I respect those formalities and create the beautiful dish using the ingredients that agree with each guest. I would like you to savor luxurious "relish" brought out from the ingredients.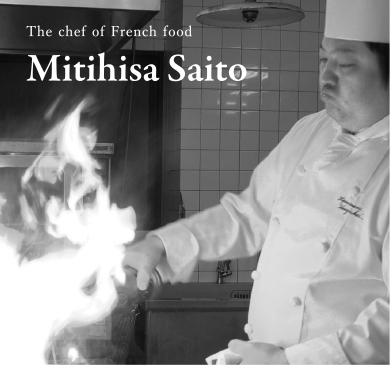 I begin with careful selection of satisfactory ingredients by talking directly with producers, To make the most of them is my motto. I give the last finish with the sauce that is thought out to satisfy wide-ranging age groups. "Tasty dish can make people happy and impressed." I'd like to entertain you with sparkling dish that also delight your eyes.